Past LCTG Shows
CLUE, THE MUSICAL!
DINNER THEATRE format, as always, featuring salad, 3 entrees (all you can eat), rolls'n butter, mashed potatoes/gravy, green beans or corn, and dessert, all in a sit-down dinner served family style!
CLUE features our "LCTG kids"---- Aaron Cappello as Mr. Boddy, Sammy Bredar as Miss Scarlett, Zack Hansen as Colonel Mustard, Hannah Souronis as Mrs. White, Adam Gustas as Mr. Green, Lydia DeVille as Mrs. Peacock, Dylan Foster as Professor Plum, with Laura Spasske and Olivia Froelich as the Maids, Koty Bakker as the Butler, and Bailey Corbett as the Gardener...with guest inspector Bella Gomez as the supersleuth who must solve the murderous question: Who killed Mr. Boddy???
Everybody has surely played CLUE!!! This show is no exception! The audience plays along! COME SEE AND HELP the Inspector SOLVE THE MURDER!
Show dates are Friday, June 3 and Sunday, June 5, Saturday, June 11 and Sunday, June 12, closing Sunday, June 19!
Friday and Saturday you'll eat at 6:30 and laugh (as you solve the mystery) at 8 pm.
Sundays, you'll eat at 12:30 and laugh (as you solve the mystery) at 2 pm.
Following Clue, in July FOR TWO PERFORMANCES ONLY! LCTG brings back the adorable "love triangle" story of a man, his dog Sylvia, and the "other woman" (in this case, HIS WIFE!)
After 5 shows in Jan and Feb, 2016.... (in our 50th year of theatre, our 12th year already at Great Oaks!), LCTG decided to bring the show back for 2 local performances, this time starring Hannah Souronis as Sylvia, Matt Stinnett as the husband Greg, Linda Slankard as Kate, "the wife/other woman", Kali Rasala as Kate's galpal, and Mercedes Austgen as Leslie, the marriage counselor.
Shows Fri night and Sun matinee, July 22 and 24 ONLY, 2016....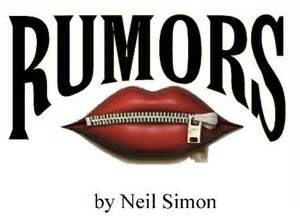 More to update...check back soon!
Back by popular demand...we did another...
Hillbilly Weddin', a mergin' of the Puddin' family with the Na-Bob clan! What a combo! Yee haw! Did sumbuddy say "shotgun weddin'"???
Yessir, the Hillbilly Weddin' date took place Saturday, November 19!!!!
We did two shows only! December 11 and 16! ONCE IN A WIFETIME, an original script by Angie!! Just back from our tour at White Pines!
Wifetime featured Linda Slankard, Kevin Sherman, Angie and Paul Lowe too!, would'ja believe it????
It was a Christmas VALENTINE for everyone! (especially the romantics at heart!)
Last summer, we did....
Conrad Birdie is the biggest rock & roll star of the
60's ever to be drafted. Aspiring English teachers and
song writer Albert is convinced he can make his fortune
and marry his girlfriend Rosie if he gets Conrad
on the Ed Sullivan show to kiss a high school girl
goodbye. Albert's mother will do anything to break
him up with Rosie. Kim and Hugo, the high school
steadies, live in Sweet Apple, Ohio where from the kiss will be broadcast.
The satire on American society is set in 1958. The story was inspired by the
phenomenon of popular singer Elvis Presley and his draft notice into the Army in
1957. The rock star character's name, "Conrad Birdie," is word play on the name of
Conway Twitty. Twitty is best remembered as a country music star, but before that,
in the late 1950s, he was one of Presley's rock 'n' roll rivals.
COMING THIS SUMMER!!!
Birdie show dates include Sundays and Fridays, July 10, 15, 17, 22, 24, 29, 31.
Dinner shows $32 adults, $30 seniors, $25 kids to age 12.
Kids,
The April kids' shows 2011 featured:
A melodrama, a fairy tale, and a teen comedy featuring the kids from
Christmas Story, Charlie Brown, and Guys 'n Dolls, Jr...
Paul and Angie Lowe presented their kids shows...BY kids and FOR kids of all ages. Tom has agreed not to have dinner shows for this one, so ticket prices are much more family-friendly! These amazing kids are doing 2 big shows and a one-act, all for you! Please bring your kids and grandkids to see what kids their age can do!
Sunday, April 10, 2 pm
Friday, April 15, 7:30 pm
Saturday, April 16, 2 pm
Sunday, April 17, 2 pm
"Foiled by an Innocent Maid"
Come cheer for the hero and boo the villain at this fun little show about good and evil starring six talented 10-to-12-year-olds. Will the real heir to the Follansbee fortune ever win out? You'll have to come and see. Our lips are sealed.
Sunday, April 10, 2 pm
Friday, April 15, 7:30 pm
Saturday, April 16, 2 pm
Sunday, April 17, 2 pm
"Nick Danger, Private Eye
Not just another Fairy Tale"
Granny Goodbody tries to tell all of her very favorite fairy tales, but it seems that someone has stolen the props!
Hansel & Gretel, Rapunzel, Sleeping Beauty, Little Bo Peep, Snow White, Cinderella, even Goldilocks and the 3 Bears, all find it impossible to act out their stories because of the...but wait! We don't want to give it away. Come see for yourself if Nick Danger, Private Eye can solve the case and maybe even win the girl.
This is a show featuring lots of audience participation, with children from the audience being asked to interact with the cast and even come up onstage. Is that fun, or what?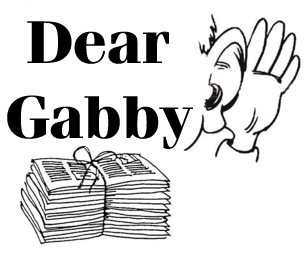 Saturday, April 16, 2 pm
Sunday, April 17, 2 pm
"Dear Gabby"
In this teen comedy, the school newspaper is in financial trouble and everyone hopes the new "Dear Gabby" column will help sell enough papers and advertising to operate in the black.
When everybody jumps to the wrong conclusions, "Dear Gabby" has to come clean about the advice letters she's put into the paper, along with the answers that get everyone in hot water.
CLICK ON LCTG HISTORY...WOW, WHAT MEMORIES! HOPE YOU SAW MANY OF THEM!!!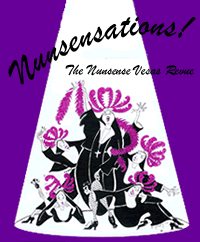 Hey, everyone! Come see our Nunsensations!
8 shows! Come help us fill up the theatre!
Feel free to forward this email to all your friends!
If you saw Nunsense 2 years ago, you remember the fun!
If you didn't, now's your chance to get in on it!
You'll be soooooooooooo glad you came!!!!
(and you don't have to be Catholic to love it!)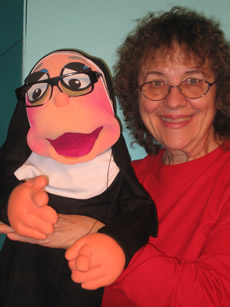 featuring
Linda Slankard as the Mother Superior
Kim Bernstein as Sister Hubert, 2nd in command
Lynette Estes as Sister Robert Anne, the tough kid from Brooklyn
Christine Powers as Sister Amnesia...her name speaks for itself
"novice" Shannon Jones as Sister Leo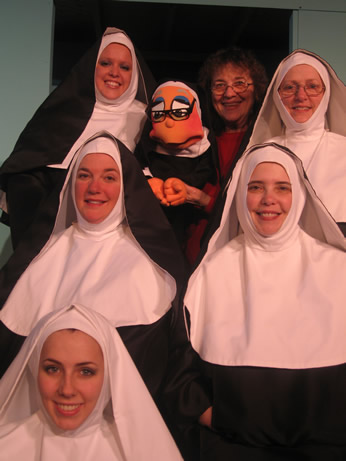 Great food, great fun, wonderful music, color and comedy!!!!

Come see us!
Paul and Angie Lowe
in our 45th year
Starting our 7th yr at Great Oaks...right in your back yard!

You don't have to go to Chicago to see great shows!
Free parking too...take advantage of us for your entertainment dollar!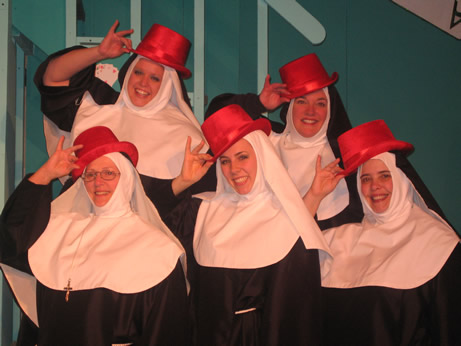 PUT LCTG ON YOUR CALENDAR THIS WHOLE YEAR FOR A VARIETY OF ENTERTAINING SHOWS, FEATURING LCTG FAVORITES AND WHO KNOWS WHO ELSE?
LCTG's November show
A Neil Simon comedy classic
Prisoner of Second Avenue
DIRECTED BY PAUL AND ANGIE LOWE
 
featuring Bruce Jung, Linda Slankard, Rich Wotkun, Jacqueline Verdeyen, Kathie Rosdil, and Kay Wagman
 
Mel Edison is an executive of a Manhattan firm which has suddenly hit the skids,  and he gets the ax. His wife Edna takes a job to tide them over; soon, she too loses her job.   Compounded by the air-pollution killing his plants, and with the walls of the apartment paper-thin, allowing him a constant earful of his neighbors' private lives,  things can't seem to get any worse...but they do!  Mel gets robbed and his psychiatrist kicks off with $23,000 of Mel's money. Mel does the only thing left for him to do-----he has a nervous breakdown.... and it's the best thing that ever happened to him...

His older brother Harry, together with his older sisters Pearl, Jessie, and Pauline come to his aid... well...almost.

Neil Simon has "a gift for taking a grave subject and, without losing sight of its basic seriousness, treating it with hearty but sympathetic humor...A talent for writing a wonderful funny line...full of humor and intelligence. "-New York Post

Neil Simon "creates an atmosphere of casual cataclysm, an everyday urban purgatory of copelessness from which laughter seems to be released like vapor from the city's manholes."-Time
The Region's only full-time Dinner Theatre at Great Oaks.....L'arc en Ciel Theatre Group in its 6th year!
Owl and the pussycat LAST SPRING, FEATURED NEWLYWEDS SHANNON & STEVEN BECKER AS THE MISMATCHED LOVERS! WE LOVE THESE 2!
"OFF THE DEEP END" HAS COME & GONE...4 ONE-ACTS WHERE EVERYONE WENT OFF THE DEEP END!
"DEEP END" INCLUDED A CUTE LITLE BEDTIME STORY...A WEDDING ALBUM... Narrator Brandon Denton tOLD THE TALE OF THE PERFECT married couple, THE BRIDE AND GROOM, HOWEVER, HAD NEWS FOR HIM! Sarah Lounges and Steven Nicksic (all recently seen in You Cant Take it with You). Brandon and Sarah have played numerous roles together, from LITTLE SHOP OF HORRORS to Jerry Finnegans Sister, from Dont Drink the Water to You Cant Take it with You. STEVEN PORTRAYED MR. DEPINNA IN YOU CAN'T TAKE IT WITH YOU. HIS LAST SHOW WITH LCTG WAS IN '93!!! HE'S GLAD TO BE BACK!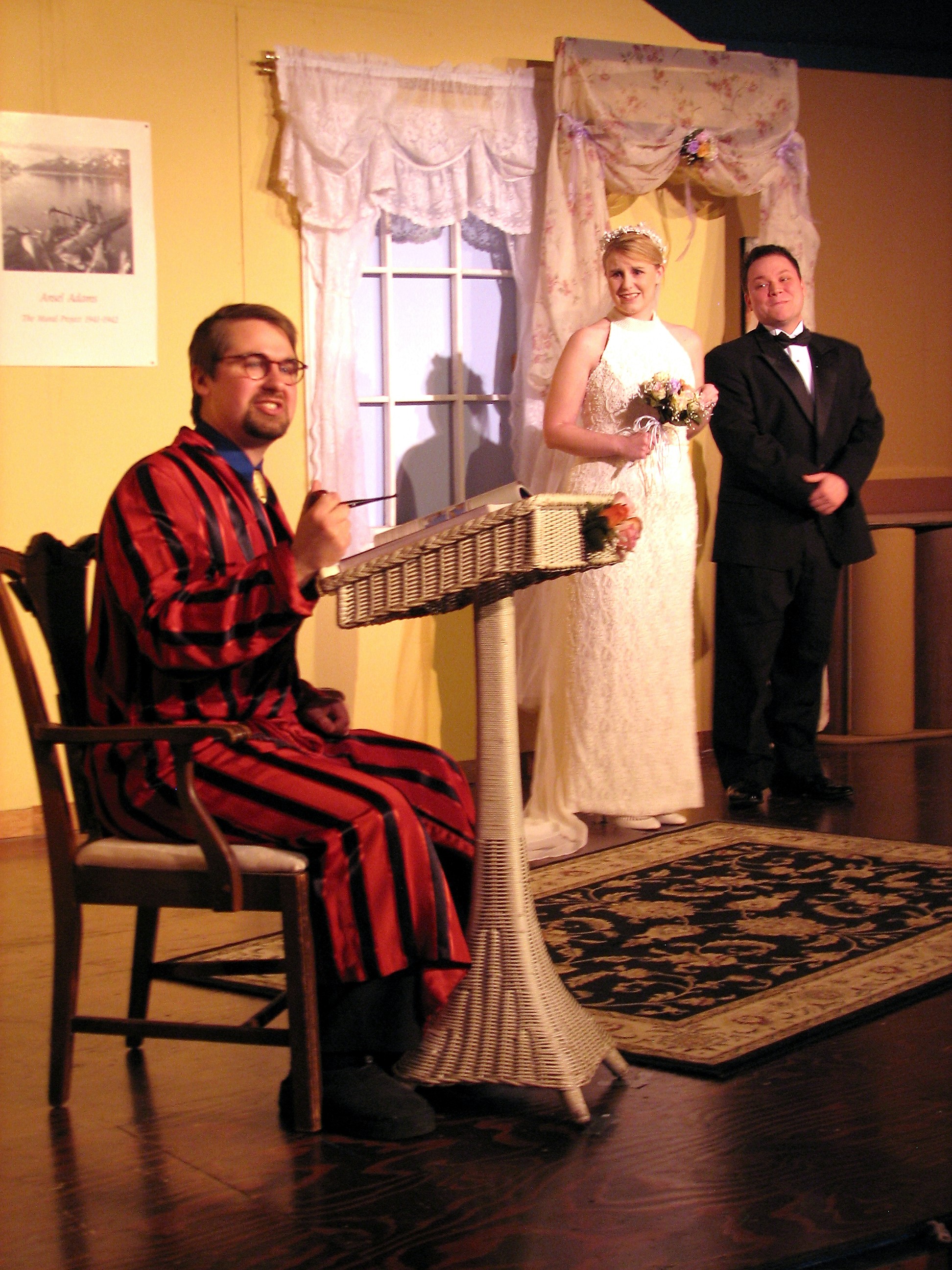 IN NINE HOLES, TWO GUYS WENT GOLFING & SHARED INTERESTING STORIES WHILE THEIR CADDY ADDS HIS 2 CENTS' WORTH. lIKE SEINFELD, THIS WAS A LITTLE STORY ABOUT NOTHING, BUT IT WAS FUN!
JAY GIANOTTI, SAM VANLEAR, AND JACOB GARDNER (OUR JOSEPH LAST SUMMER) PORTRAYED THE GOLFERS AND THE CADDY. THEIR CONVERSATION COULD HAVE DRIVEN ANYONE "OFF THE deep end"
FINALLY, sAM APPLIED FOR A BUSINESS LOAN IN bRANDON'S BANK WHERE ZOE "ACTED" AS SECRETARY. SAM FOUND THERE WAS MORE THAN INTEREST TO PAY FOR THIS LOAN. REVENGE WAS FUN DURING THIS "BANK JOB!"
crazy and a half CLOSED SUN, JAN 31) TO A SELL-OUT CROWD...FEATURING LINDA SLANKARD, KEVIN SHERMAN, ZOE CRAFTON, SAM VANLEAR, ALONG WITH STEVE KAMINSKY, EMERSON CARESS, AND MIKE FISH IN 4 SILLY, COMIC ONE-ACTS!!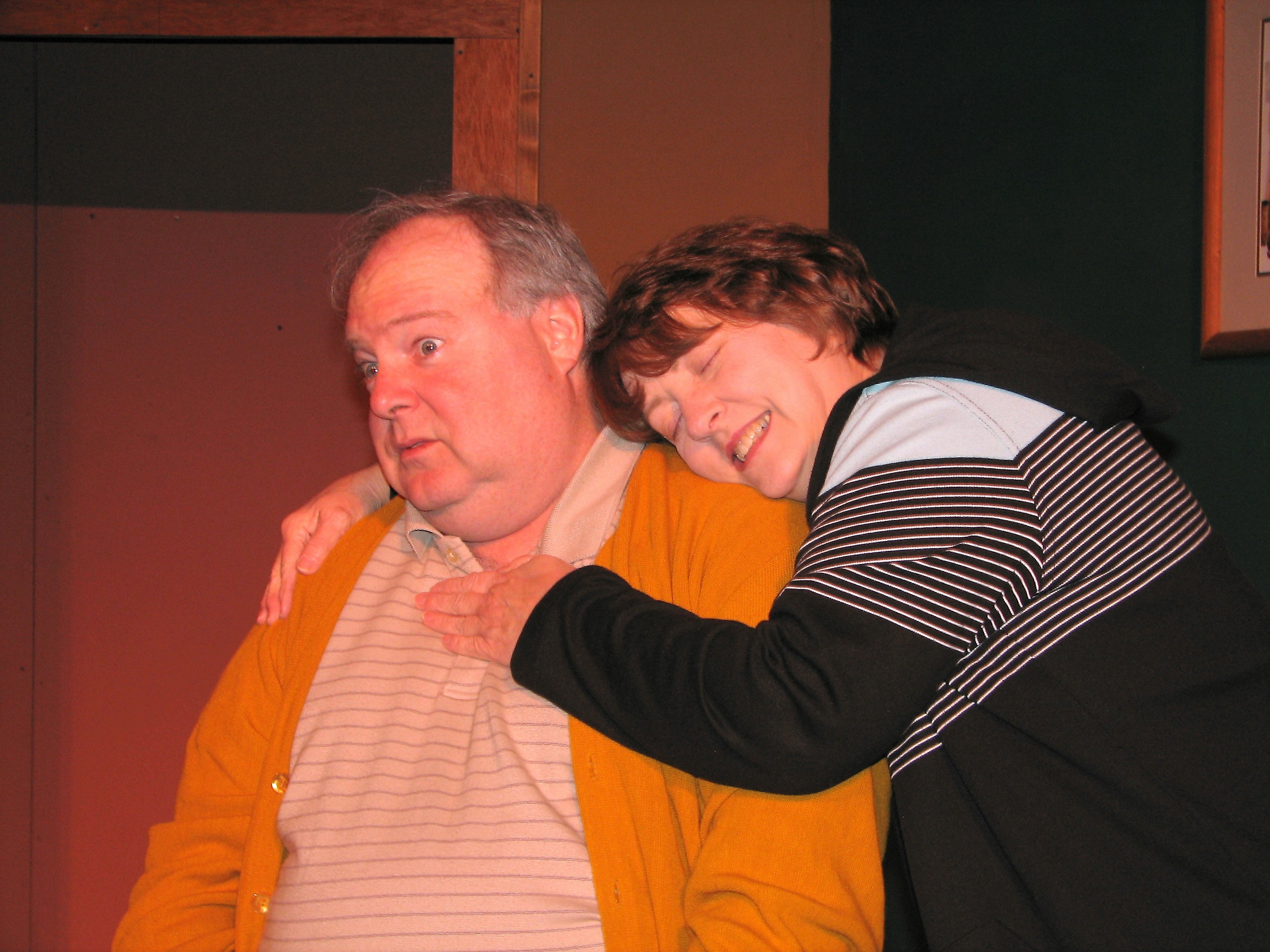 THEY WERE...2 plays about psychiatrists, a christmas eve love story in the toy dept, and a new year's eve mafia near-"hit" !
We have great memories of You can't take it with you too, from last fall!!!
Our LCTG "kids" shows got started after we did A christmas Story in Dec of '08. Here's a memory for ya!